Key West Flats Fishing
Experience the thrill of flats fishing at it's best. Go sight fishing with Capt. Tony for Bone fish and other shallow water trophy fish. Live the challenge that few anglers ever get enough of. Imagine stalking tailing Permit, rolling Tarpon, and prowling sharks, all in less than three feet of water in the beautiful backcountry of the Florida Keys.
Fly Fishing the Key West Flats
Fly fishing the beautiful flats of the keys is a challenge few can refuse. There is nothing more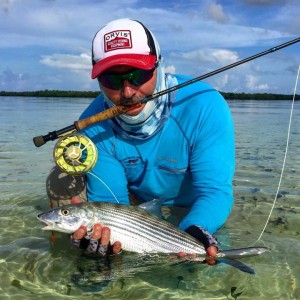 exhilarating than a Tarpon chasing a well-presented fly or a permit nudging his way towards your fly. Your heart beat goes off the scale watching these great fish swimming across the flats. Not to forget Bonefish, the gray ghost, spooky is an understatement. Not only do you need to be accurate you need to do it quietly. If you know any fly fishing entusiasts, in between going fishing, you could surprise them with these fly fishing gift ideas for special occasions and make their day. I am an Orvis endorsed guide with large amounts of patience.
SPIN FISHING also available, Shimano tackle supplied in 8, 10, 12lb test. Watch your reel smoke with the streaking speed of our salt water flats fish.
THE RATES FOR FLATS FISHING IN KEY WEST
Tarpon: March through July, peak season May and June.
Baby Tarpon: March through November.
Bonefish & Permit: Mid-February through mid-December.
Jack Crevalle, Sharks & Barracuda: December through February.
Half Day / 4 Hours $600
3/4 Day / 6 Hours $700
Full day is an 8 hour trip with extra time to try several types of fishing is $800
3/4 Day / 6 Hours $700
Mastercard and Visa are accepted.
We take a maximum of two people.
All tackle and licenses included.
Fuel is included.
Don't forget to arrive with the best fishing gear too! This includes, rods, reels, bait and any other essentials you'll need for catching some spectacular fish. There are some pretty big fish in this water so you want the right gear to handle them. Fishing gear can get a little expensive at times, especially if you're buying a whole new kit so be sure to keep an eye out for a bass pro shops coupon as it could save you a lot of money! Plus, you could get some great gear at a really discounted price, making this sport more affordable. You can also get some of the best in fishing gear and clothing – ExOfficio, Patagonia, Simms, Abel, Orvis, Tibor and more –
by visiting our friends at Saltwater Angler at Ocean Key Marina, 50 Palmetto Dr. Key West, FL 33040 or online by clicking here.