Hello from Capt. Tony Murphy with Key Limey Charters. Thank you for your interest in my Key West fishing news about Fishing in Key West and the lower keys with Key Limey Charters!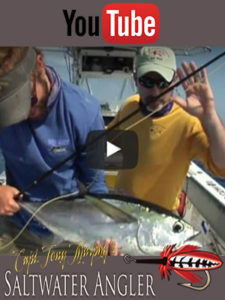 January is here in the Florida keys along with the colder winter air and colder water temperatures. With these colder temperatures some of the more toothy critters will be more dominate on the flats. Cudas have begun to lay up in the current on flats trying to find an easy meal, giving angler a great opportunity to try and catch one. Best caught using something flashy and moving fast with a bait-fish profile. /p>
.Some of our guides have been catching Speckled Sea Trout in the basins as the cooler water moves in using shrimp and jigs, and clouser styled flies on the bottom. Keep and eye out for Jack Crevalle pushing across the flats or hanging out with stingrays as they search for crabs and other crustaceans in the sand.
Tuna and Wahoo have shown up. With the full moon the Wahoo bite has been excellent with many boats catching multiple fish. A few sailfish have been spotted as well. The early morning and late afternoon bites have been the most productive with some great fish being caught. The Reef bite has been fairly decent. Plenty of Red Grouper and Mutton Snapper around. The Yellowtail snapper bite has been great as usual, and makes for great table fare.
Above all else, Capt. Tony Murphy and his staff wish you tight lines and Happy New Year! Get down here and book a trip with the Key Limey to catch that fish of a lifetime!!!
We wish you tight lines and fish boat side from Capt Tony Murphy with Key Limey Charters
Visit us weekly to get your Key West Fishing News!
CLICK HERE TO: BOOK A FISHING TRIP OR EMAILING US AT [email protected]
Key West Fishing News From Capt. Tony Murphy
Meet Capt Tony Murphy
Captain Tony Murphy has been fishing for a living in the waters off Key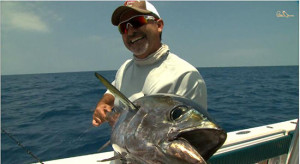 West for more than 20 years, including 5 years of commercial fishing with rods and reels targeting Snapper, Groupers and Kingfish.
You may not know this but, commercial fishing experience is essential for a true fishing guide. There are many light tackle guides in Key West to choose from and you'll find that most successful guides have backgrounds in commercial fishing.
Florida Keys Guide Since 1992
Featured in Prominent National Magazines
2006, 2007, & 2008 ESPN Mad Fin Tournament Winner
READ ARTICLES WRITTEN ABOUT CAPT. TONY MURPHY
Key West Fishing News from Key Limey Charters' Capt Tony Murphy