Flats Fishing in Key West 
Hello to everyone from the staff at The Saltwater Angler. The Migratory Tarpon have started to move through the Keys. The Atlantic side of the Keys has been the best  place to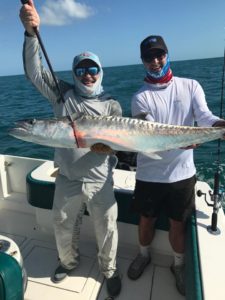 look for larger Tarpon with the deeper channels just off the flats holding Juveniles. The closer we get to May, you'll be able to look for the big ones on both sides of the Keys. The pre-sunrise and late afternoon bite is the best time to maximize possible hook-ups. Darker flies from toads to bait fish patterns are good choices for fly fishing. Oddly enough bone white Hogy lures in the 10 inch size are excellent when spin fishing. We will have a small cold front move through the week-end, so back country fishing for Bonefish and Permit could be tough. Keep this in mind if planning on coming down the next 4-5 days.
Key West Offshore Fishing
Offshore continues to produce many Blackfin tuna and Bonita's. We are in the height of Sailfish season, so planning a trip offshore could be great! Remember there is always many different reef species to tackle as well. Multiple species of snappers are always available when fishing off the bottom in 40-60 feet.  Grouper season opens in just a few weeks, so get the heavy gear ready. Wishing you tight lines and fish boat-side!
Book Your  Fishing Charter with Capt Tony Murphy
Book Your  Fishing Charter with Capt Tony Murphy
Your Key West Fishing Report