Hello and Welcome from the Capt. Tony Murphy!
The summer weather patterns are in full swing and that means warmer water temps on the flats. So getting an early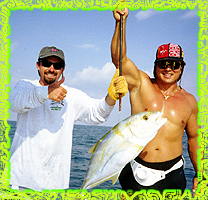 start is key this time of year. The Tarpon bite has been steady from pre-sunrise till around early morning using darker fly patterns with just a little flash. Moving onto the flats with a good incoming tide just after the Tarpon bite will put you in play for hungry Bonefish and possibly a shot at a Permit. Using small tan to olive crab patterns will work for both species. When just targeting Bonefish, spawning shrimp patterns seem just as good as small crab patterns. I have had some good luck working the edge of the flats in just a little deeper water with large Jacks. Pound for pound, they are one of the top fighters you can have on a fly.
Off shore has been steady with Dolphin in 300-400 feet of water. Nice size Tunas are also still being caught west toward the end of the Key West bar. It also has been a great year for Blue Marlin too. Many reports of 300-400 lb releases all up and down the Keys. It is also Lobster sportsman season, so be very aware of divers and snorkelers looking for those Bugs. As always wishing you tight lines and fish boat-side!